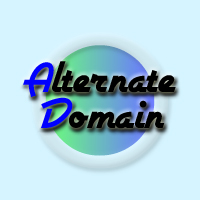 Thank you for visiting Alternate Domain. Please use the selections on the left to browse through our domain name collection. All of the domains listed on this site are currently registered at GoDaddy and sold through GoDaddy Auctions. Domains that are available for sale are offered at a fixed "buy now" price unless noted otherwise. Clicking on a particular domain name will take you to a GoDaddy Auction page where you can purchase the domain using GoDaddy's secure payment system.

Terms of Sale: Buyers using GoDaddy Auctions may be subject to a small membership fee (currently $4.99/yr). Domains purchased for $1,000 or more are handled through Escrow.com. Domains purchased for less than $1,000 are handled through GoDaddy and are subject to a five (5) business day waiting period while GoDaddy verifies Buyer's funds. Once funds have been verified, GoDaddy sends Alternate Domain authorization to transfer the domain to the Buyer. Upon receiving authorization from GoDaddy, Alternate Domain starts the change of ownership process.
*** One Cent No Reserve Domain Sale on eBay ***

Starting bid just $0.01 with no reserve. Free push to registrar of record.

*** Fixed Price/Buy Now Domain Sale on eBay ***

Starting price from $35.00 and up. Free push to registrar of record.






*** Featured Domains ***

4WN.com - $3,500
L4O.com - $3,500
Berm.org - $850
Brah.net - $850
Ditz.org - $500
Dolt.net - $1,500
Dreg.net - $500
Duos.org - $500
Gets.biz - $200
Jabs.org - $850
Josi.org - $850
Lizz.net - $500
LLCs.org - $3,500
Mane.org - $500
Moes.org - $500
Mtns.net - $850
Owes.org - $850
PhDs.net - $3,500
Sews.org - $500
Suzi.us - $500
Tote.biz - $500
Vern.org - $500
Woks.org - $1,500
Yutz.net - $500
Zany.org - $850
Zeke.org - $850

4N.biz - $850
4P.biz - $850
L3.biz - $850
330.us - $500
975.us - $200
AQE.net - $1,500
Bum.biz - $500
Dye.biz - $500
FYV.net - $1,500
JLG.org - $1,500
Kym.us - $500
MOF.net - $3,500
NIQ.net - $1,500
Urn.biz - $500
UBZ.net - $1,250
VUI.net - $3,500
EIYU.com - $850
EJRN.com - $625
EZKM.com - $625
ILXE.com - $625
NKHU.com - $625
WSMU.com - $850
XDUU.com - $625
YZUK.com - $625
ZMVL.com - $625
ZUZP.com - $625